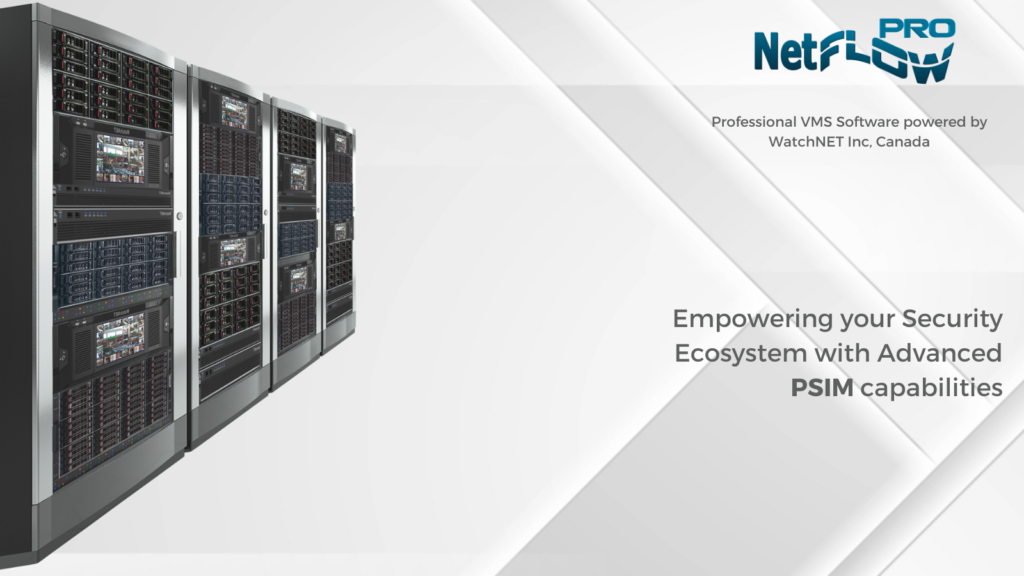 Video Management Systems Demystified: Optimizing Security & Efficiency
VIDEO RECORDING & STORAGE: 
VMS serves as a centralized platform for capturing, recording, and storing video footage from multiple cameras. It provides the ability to configure recording settings, such as resolution, frame rate, and retention periods, ensuring efficient utilization of storage resources. NetFLOW-PRO, a perfect VMS allows for easy retrieval and playback of recorded videos for investigative purposes. 
CAMERA MANAGEMENT & CONTROL: 
VMS offers comprehensive camera management features, allowing users to configure and control individual cameras within a surveillance network. It provides functionalities like camera configuration, PTZ (Pan-Tilt-Zoom) control, camera grouping, and scheduling. VMS software (NetFLOW-PRO) enables users to monitor live video feeds from different cameras simultaneously and switch between them seamlessly.
VIDEO ANALYTICS & EVENT DETECTION: 
VMS often incorporates video analytics capabilities to enhance security and operational efficiency. It can detect and alert users about specific events or anomalies, such as motion detection, object tracking, people counting, facial recognition, and license plate recognition. Video analytics help automate surveillance tasks, reduce false alarms, and improve response times to critical incidents.
REMOTE ACCESS & MONITORING: 
VMS supports remote access, allowing users to view live or recorded video feeds from anywhere using a computer, mobile device, or web browser. This capability is particularly useful for security personnel, administrators, or stakeholders who need to monitor surveillance activities or review footage remotely. VMS provides secure access controls to ensure authorized users can access the system.
INTEGRATION WITH SECURITY SYSTEMS: 
VMS can integrate with other security systems, such as access control, intrusion detection, and alarm systems, to provide a comprehensive security management solution. Integration allows for a unified view of multiple security systems, enabling operators to correlate events, trigger actions based on specific conditions, and improve overall situational awareness. NetFLOW-PRO VMS integration enhances the effectiveness and efficiency of security operations by leveraging data and events from various sources.